St. Louis, MO Life Science Logistics Services
Associated Couriers has been a reliable life science logistics courier in the St. Louis area since 1977. We understand how important life science materials and critical specimens are to patient outcomes. In order to transport these materials, we know that several regulations must be met. Our drivers go through extensive training to transport your materials in a safe and efficient manner around St. Louis.
No matter where you are in the region, our reliable healthcare supply chain solutions are accessible to you. We're dedicated to providing courier services that are safe, timely, and efficient.
Our St. Louis Life Science Logistics Service Area
Associated Couriers' St. Louis hub covers a 150-mile radius around the St. Louis area. We provide services to hospitals, healthcare facilities and more across St. Louis City, St. Louis County and St. Charles County. We also provide services into Mid, Southern, and Southeast Missouri and Southern Illinois.
Our headquarters is minutes away from Lambert International Airport. This prime location allows our TSA-Certified life science couriers to receive and send out deliveries at a moment's notice.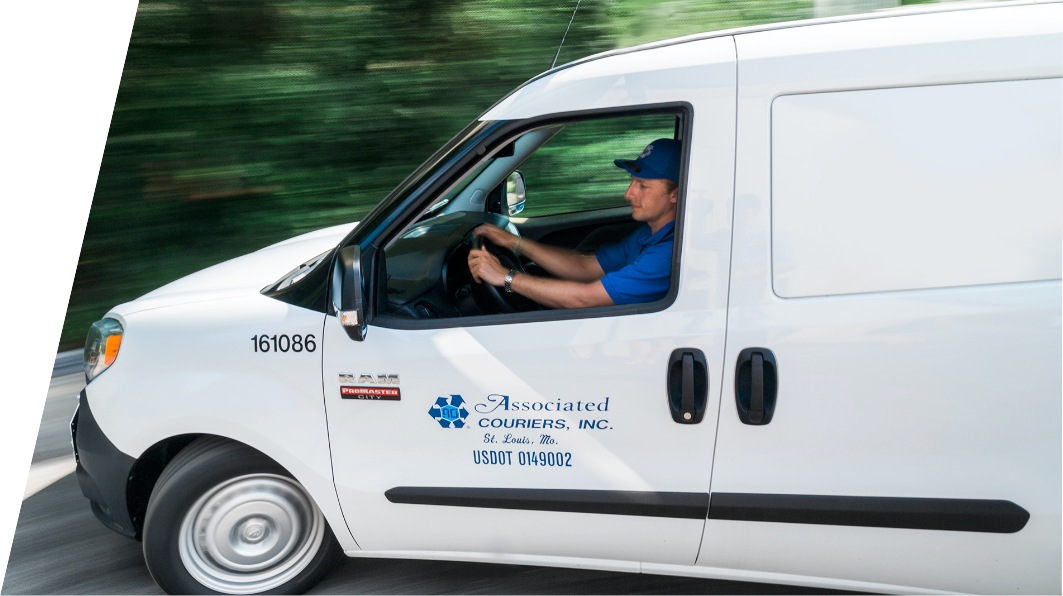 Safe, Trustworthy Healthcare Supply Chain Solutions in St. Louis since 1977
Associated Couriers takes pride in our reputation as the leading life science logistics solutions provider in St. Louis. Our couriers understand the responsibility of transporting your critical medical specimen.
We value the safety of both your shipments and our couriers and undergo extensive training.
We've developed an OSHA-compliant biohazard exposure control plan and adhere to all HIPPA guidelines. Our drivers also have a Hazmat endorsement on their Commercial Driver's License. View our complete list of certifications.
---
St. Louis Healthcare Supply Chain Solutions
As a dedicated life science logistics courier, Associated Couriers understands the importance of handling and delivering sensitive materials in real time. Our healthcare supply chain management solutions include the use of company-owned, temperature-controlled vehicles.
We offer $250,000 of cargo insurance coverage for each conveyance and $5,000,000 of umbrella insurance for each occurrence. Your critical medical devices, blood work, transplant organs, and other specimen are protected throughout the supply chain system.
Associated Couriers offers a variety of courier services and solutions to best fit your need. Whether a dedicated daily route, On-Demand delivery, or Next Flight Out services, your material is delivered safely and on-time.
Learn more below about our specific capabilities and industries served below.
Online Training for
Ongoing Certifications
Hazmat
Licences
Time-Sensitive Delivery
Our St. Louis office's proximity to Lambert International Airport allows for time-sensitive, Next Flight Out services. Our couriers are TSA STA Certified and can quickly navigate through cargo access areas.
Our couriers are available 24x7x365 to handle your critical material. From domestic to international shipments and deliveries, we provide reliable solutions.
Immunotherapy Couriers
Immunology specimen transport services requires dedicated and experienced couriers. Our couriers undergo extensive training and certifications to properly handle your delicate materials. With our vans, we can provide frozen, chilled, or ambient temperatures for transporting tissue samples and more. Our couriers are committed to providing timely and reliable services across St. Louis.
Clinical Trials Couriers
At Associated Couriers, we understand clinical trials provide life-saving medical research. With major research hospitals at Washington University and Saint Louis University, our couriers are ready at a moment's notice. We can transport tissue, urine, and blood samples On-Demand. Couriers receive training to properly handle the delivery of your critical material.
Medical Device Transportation
With Associated Couriers' history in the industry, we understand the importance of on-time medical device deliveries. Medical devices are a crucial element of hospital supply chains, as well as clinics, private practices, and other medical centers.
Our St. Louis couriers know how to transport devices safely and quickly to and from medical facilities. Couriers can also transport manufactured medical devices that need sterilization. With daily Dedicated Delivery Routes, routine pickups or On-Demand delivery are both options.
Cell and Gene Therapy Couriers
Cell and gene therapy transportation is a complicated process. Materials need proper handling and climate-controlled, time-sensitive deliveries. Associated Couriers provides just that.
With dedicated routes around St. Louis, quick turnaround times can be met for urgent deliveries. Because our drivers have hazmat endorsements, they know how to keep your sensitive specimens safe.
Precision Medicine Couriers
Associated Couriers has built a successful reputation around pharmaceuticals and precision medicine solutions. Our couriers' extensive training provides you with the exact delivery services you need to help medication arrive on time. Crucial medications need time-critical deliveries to hospitals, pharmacies, and clinics throughout St. Louis. Our courier methods ensure the urgent transportation of your precision medication supply.
Transplant Organ Couriers
At Associated Couriers, we understand the delicate nature of transplant organs deliveries. These urgent shipments can happen at a moment's notice, and our couriers are ready. From Next Flight Out service out of Lambert Airport or a delivery across St. Louis, your shipment arrives on time.
Our Hazmat-certified drivers know how to safely transport these life-saving specimens. Whether a liver, kidney, or lungs, you can trust Associated Couriers to transport your material to healthcare organizations around the city.
---
Trust Associated Couriers for Life Science Logistics in St. Louis
Associated Couriers has been a life science logistics and supply chain leader in St. Louis for over 40 years. We are always improving and growing our services, to continue to be the best courier option for your needs. From Next Flight Out Services to Dedicated Daily Routes, we offer a variety of solutions. Request a quote or contact us today to learn how we can provide the best courier service and solution for you.
Associated Couriers has consistently gone above and beyond to meet our shipping needs. They are flexible, adaptable and reliable. They have consistently delivered on transporting our time-critical shipments within our required transit time.

A Medical Services Provider

Join Our Growing Team
AC takes pride in providing superior services backed by our team of dedicated drivers and administrators. We have a national network of over 1,200 drivers and staff who are fully trained and certified to assist in handling our customer's time-critical and life-saving shipments.
Online Training for
Ongoing Certifications
Company Owned
Trucks & Vans