Organ Transplant Transportation Service
Transplant organ couriers need to be available at any time to transport organs and tissues from donors to transplant facilities. There are climate control regulations and time limits for transplant organ viability. You need an experienced medical courier company that has proven its capabilities in this sort of specialized delivery space.
Associated Couriers understands the importance and time-sensitivity of transplant organ transportation. Our drivers and couriers follow the strict protocols set by organ banks to ensure a safe transfer of harvested organs and timely deliveries. Learn more about our Organ Transplant Transportation services below or request a quote today!
Time-Sensitive Organ Transplant Transportation Service
Associated Couriers knows that speed and safety are top priorities for transplant organ delivery and courier services, especially with time limits for organ transplant viability. Our extensive network of hub locations and dedicated routes allows for a two-hour delivery window nationwide for organ transplant transportation. Check our locations to see where you can connect with Associated Couriers today.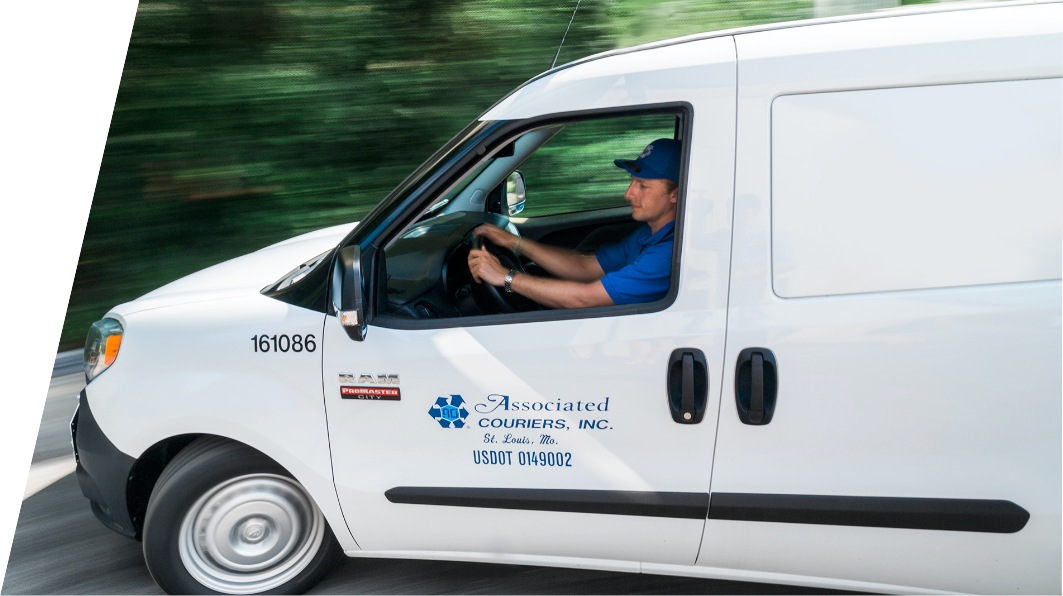 Company-Owned, Temperature-Controlled Vehicles
One of the biggest advantages of choosing Associated Couriers as your Organ Transplant Transportation service provider is the assured safety operating company-owned vehicles with a top-performance guarantee. With 24/7 service, there's no wait time for Associated Couriers to procure a vehicle from a third party.
We know that temperature control is particularly important for transplant organ delivery to keep materials safe and viable for transplant. Once an Organ Transplant Transportation service request is submitted, our drivers pick up dry ice, if needed, before picking up the organ so there are no gaps in the cool conditions.
---
Associated Couriers is Hazardous Materials Certified for Maximum Safety
Meticulous attention to detail is critical in handling transplant organs, which is why all of Associated Courier's employees are required to pass Hazmat background checks, and all drivers must have a Hazmat endorsement on their Commercial Driver's License (CDL). This specialized training prepares our team for the safe handling of transplant organs. Learn more about our certifications for safety compliance.
---
Organ Transplant Transportation FAQs
Organ transplant transportation is a complicated process that requires climate-controlled, time-sensitive deliveries. Associated Couriers has the experience and expertise you are looking for in an organ transplant courier partner.
Learn more below with our frequently-asked questions about transplant organ delivery.
---
What Organs for Transplant Can Associated Couriers Pick Up and Deliver?
We know that there are a lot of factors to consider when choosing a medical device delivery service. Learn more with our frequently-asked questions below. Don't see your question? Contact Associated Couriers today to learn more and get a quote!
Associated Couriers has the ability to pick up and deliver the following organs:
Livers
Kidneys
Lungs
Hearts
Corneas & other bodily tissues
Don't see what you're looking for? Contact the Associated Couriers team to see if we can transport what you need.
---
When can Associated Couriers pick up an organ ready for transplant?
We know that organs can become available for transplant at any time and that quick transport time is absolutely critical in such cases. Our Organ Transplant Transportation service is available 24 hours a day, 7 days a week, 365 days a year.
How soon can Associated Couriers pick up an organ ready for transplant?
Associated Couriers is committed to fast transport and delivery for our medical partners. We have one hour and two hour service windows available for organ transplant transportation services.
Why should I choose Associated Couriers for medical equipment delivery?
Associated Couriers has been the leading medical courier for medical device transportation for over forty years. Our expertise in time-critical deliveries means we will delivery your shipment with reliability and success.
---
Get a Quote Today for Safe Organ Transplant Transportation
Associated Couriers is a medical courier with over 45 years of experience in time-sensitive shipments and delivering life-saving medications and organs in the most urgent of time frames. All of our drivers are Hazmat-certified, and we work to comply with OSHA, BBP, HIPAA, and USDOT regulations in order to provide fast, efficient, and safe Organ Transplant Transportation services.
Contact Associated Couriers today to learn more and get a quote for our medical courier services.
Associated Couriers has consistently gone above and beyond to meet our shipping needs. They are flexible, adaptable and reliable. They have consistently delivered on transporting our time-critical shipments within our required transit time.

A Medical Services Provider

Join Our Growing Team
ACI takes pride in providing superior services backed by our team of dedicated drivers and administrators. We employ more than 1283 company drivers and staff who are fully trained to handle hazardous shipments, time-critical deadlines, and secure deliveries.
Online Training for
Ongoing Certifications
Company Owned
Trucks & Vans