Healthcare and Logistics Services
At AC, we understand that your medical specimen shipments are more than just a box – they're a lifeline for someone in need. Since 1977, our industry-leading medical logistics providers have been committed to getting medical specimen delivery right, transporting medical specimens and equipment with the utmost care, on-time every time.
---
Key Highlights
GDP Certified to handle any type of shipment request
Full visibility with Real-time tracking
Global Network with 24 national hub locations
---
As a medical logistics provider, we offer Dedicated Daily Routes and Same-Day Delivery options for everything from biological samples to medical supplies; ensuring lab samples are properly handled throughout their journey. Our commitment to getting it right is why hospitals, pharmacies, medical clinics, medical offices, laboratories and medical service providers of all sizes nationwide depend on AC every day for their medical specimen transportation needs.
Temperature Controlled
Medical Specimen Logistics
Proper handling is critical to the viability of UN 3373 shipments, including medical specimens, blood work, urine samples, prescription drugs, biopsies and infectious samples. Our medical specimen logistics providers take the utmost care in transporting biological specimens. All medical specimen transports including organ & tissue shipments, diagnostic tests and infectious specimens are transported in temperature-controlled containers by certified drivers and delivered on-demand.
Solutions For Transporting
Sterile Instruments
Healthcare facilities depend on sterile instruments every day to ensure that all patient procedures have a safe outcome. AC is an ANSI/AAMI ST79: 2017 compliant medical logistics provider, with proven capabilities in delivery of sterile-processed surgical instruments.
We utilize specially outfitted vans to safely transport sterile instruments to hospitals, surgical centers and medical offices with meticulous attention to detail.
Dedicated Daily
Medical Logistics Routes
With our competencies built in the medical industry, AC knows the importance of time-sensitive medical specimen shipments being delivered by the same driver, on the same route every day. Daily, dedicated medical logistics routes allow your facilities staff to develop familiarity with your medical logistics, developing peace of mind that the medical shipments your patients or medical lab depends on are on-time and delivered with the utmost care.
Time Sensitive Medical
Logistics Services
An urgent need for medical specimens and supplies often has an expiration date – or even hour. As a leading specimen and lab logistics services provider, we can help your time-sensitive medical shipments reach their destination across state lines, no matter where that may be within our nationwide service area. AC is TSA-certified for next-flight out service, and operates hubs in 20 locations and nearby major US airports. This means medical specimens can be shipped out of Boston and retrieved planeside in Dallas when the next flight lands to be delivered to your destination.
On-Time, Safe Medical Deliveries – Every Time
Timing and safety mean everything in the medical logistics industry. With 45 years of experience since our origins as a St. Louis medical logistics provider, leading healthcare providers depend on AC 24x7x365 to deliver medical specimens and supplies wherever they need to go.
Whenever and wherever you need support transporting critical medical supplies, our team of certified drivers, industry-leading ANSI/AAMI ST79:2017 compliant program and customized services with real time tracking are here to meet any medical logistics needs you may have.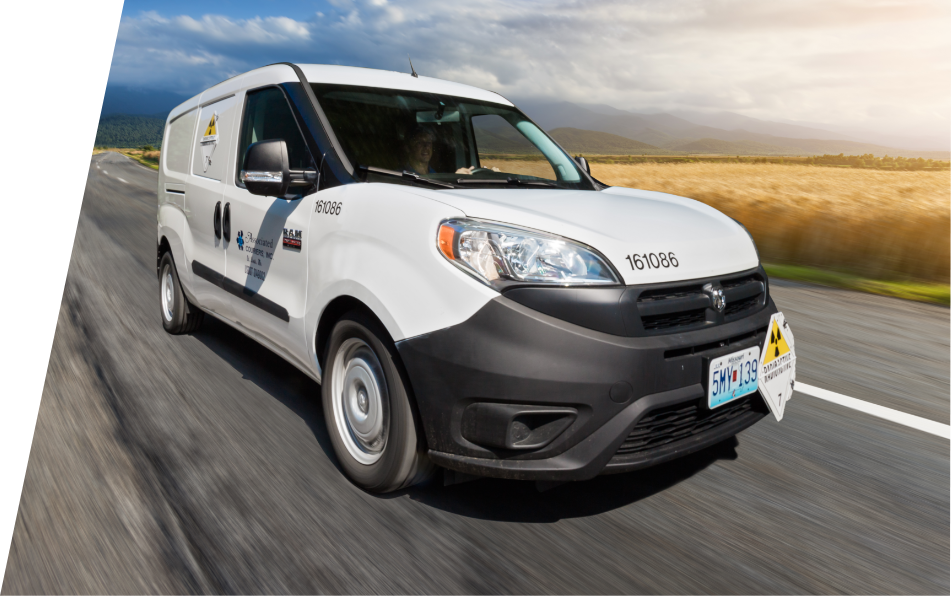 We Take Hazardous Material Shipping Seriously
Whether you need to transport medical specimens to a diagnostic laboratory or deliver biohazard materials to a research facility, you can trust AC will deliver your items with precision and care.
Lab specimens and biopharmaceuticals require meticulous attention to detail throughout the shipping process. Because these deliveries often need expedited, the margin for error is simply zero.
We make sure that all lab specimen shipments are handled effectively & efficiently, hiring only drug-screened and background checked drivers with Hazmat-endorsed CDL drivers licenses. We have also developed a comprehensive, OSHA-compliant biohazard exposure control plan to ensure safe transfer of medical materials, adhere to HIPAA guidelines and possess TSA STA certifications, getting medical shipments back on the road quickly upon arrival at the airport.
Our vehicles are also temperature-controlled, making fast, safe shipping of ambient, chilled & frozen lab samples possible.
Whether we're using our shipping containers or yours, AC can customize medical logistics services designed to fulfill your needs.
Online Training for
Ongoing Certifications
Hazmat
Licences
Join Our Growing Team
AC takes pride in providing superior services backed by our team of dedicated drivers and administrators. We have a national network of over 1,200 drivers and staff who are fully trained and certified to assist in handling our customer's time-critical and life-saving shipments.
Online Training for
Ongoing Certifications
Company Owned
Trucks & Vans